Setting new reachable goals for my home.
Style My Bookshelves
I have tons of books! In a perfect world, I'd own a huge 5,000 square foot home with a library to hold all of my hardcover and paperback treasures. But, until I hit the mega-millions, I have to make due with my space!
Quite honestly, I'm always nervous about putting too many books on my wall shelves, that are hung on each side of the fireplace and tv, creating a symmetrical look. I've displayed some of my favorites with pictures and chinoiserie vases. But, I still feel like they could use a revamping and a new look. So, re-styling all of the shelves in my living room is definitely on my to do list this year.
2. Finish Hanging Artwork
I've been to ten countries so far, and each time, I try to remember to find a really cool area where local artists display their work on the streets, for tourists to spend all of their money. Out of the ten places that I've been to, I've only hung FIVE of my paintings (*insert hand on forehead emoji here*)! I realize that for some silly reason, I'm indecisive on finding the perfect picture frame. These paintings are always a great talking point when entertaining in my home, reminiscing on where I'd been and how I magically lucked up on each artwork. I am ashamed to say that the unframed pieces are neatly rolled up, tucked away in a corner of the dining room, and I simply unroll them to show to friends and family when they visit. They are such beautiful paintings, that I have yet to display, and they each deserve their spotlight on my gallery wall.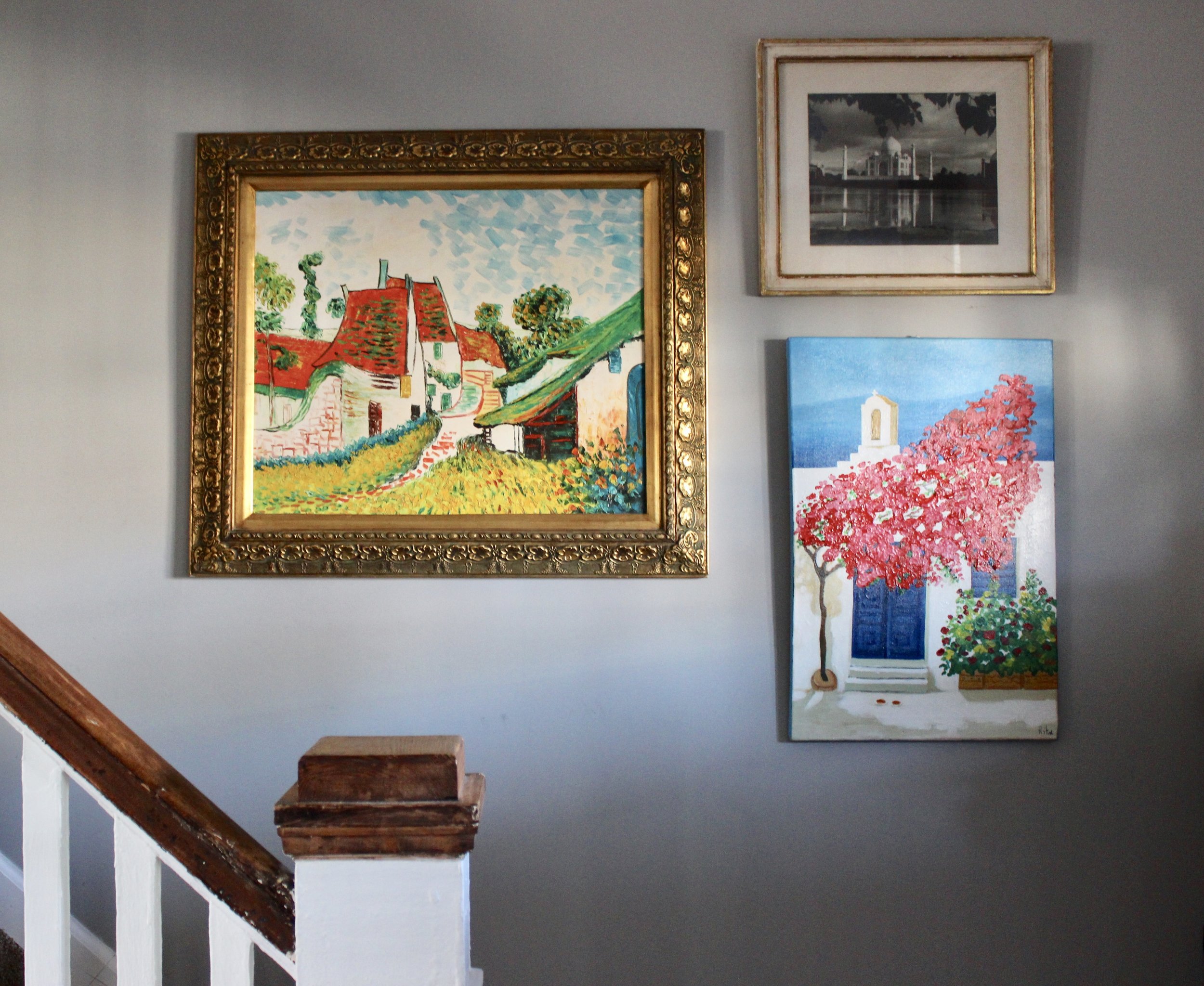 3. DIY Projects
I absolutely HATE my kitchen. I have a few DIY projects that I'd like to tackle, but my kitchen is definitely one of them. My kitchen is very small, so, with dark cherry shaker cabinets and matching brown glass tile, it feels even smaller. I'm hoping to find ways to brighten this space and turn it into the (small) kitchen of my dreams.
4. Create a Luxurious Space for Entertaining
Thanks to the Smithsonian National Gallery of Art, i have these amazing posters replicating the official portraits of First Lady Michelle Obama by Amy Sherald, and President Barack Obama by Kehinde Wiley. My dining room is bright and colorful but I want it to feel luxurious. Creating a luxurious dining room that is still inviting for entertaining and hosting will bring more use out of the least used space in my home.
5. Organize! Organize! Organize!
Lastly, I have a lot of organizing and decluttering to do, thanks to watching Netflix's Tidying Up! My pre-war "daylight row house" has a tiny closet in each bedroom. As you can see from the picture, I have so many dresses hanging that the actual clothing rod is bending towards the center. Sigh. This is just my winter clothes, babes. The show (and book) is great inspiration to get my juices going and organize everything. From my closets, to the pantry and the fridge. It's time to declutter and purge what's no longer useful.
What kind of projects do you intend to tackle in this new year?