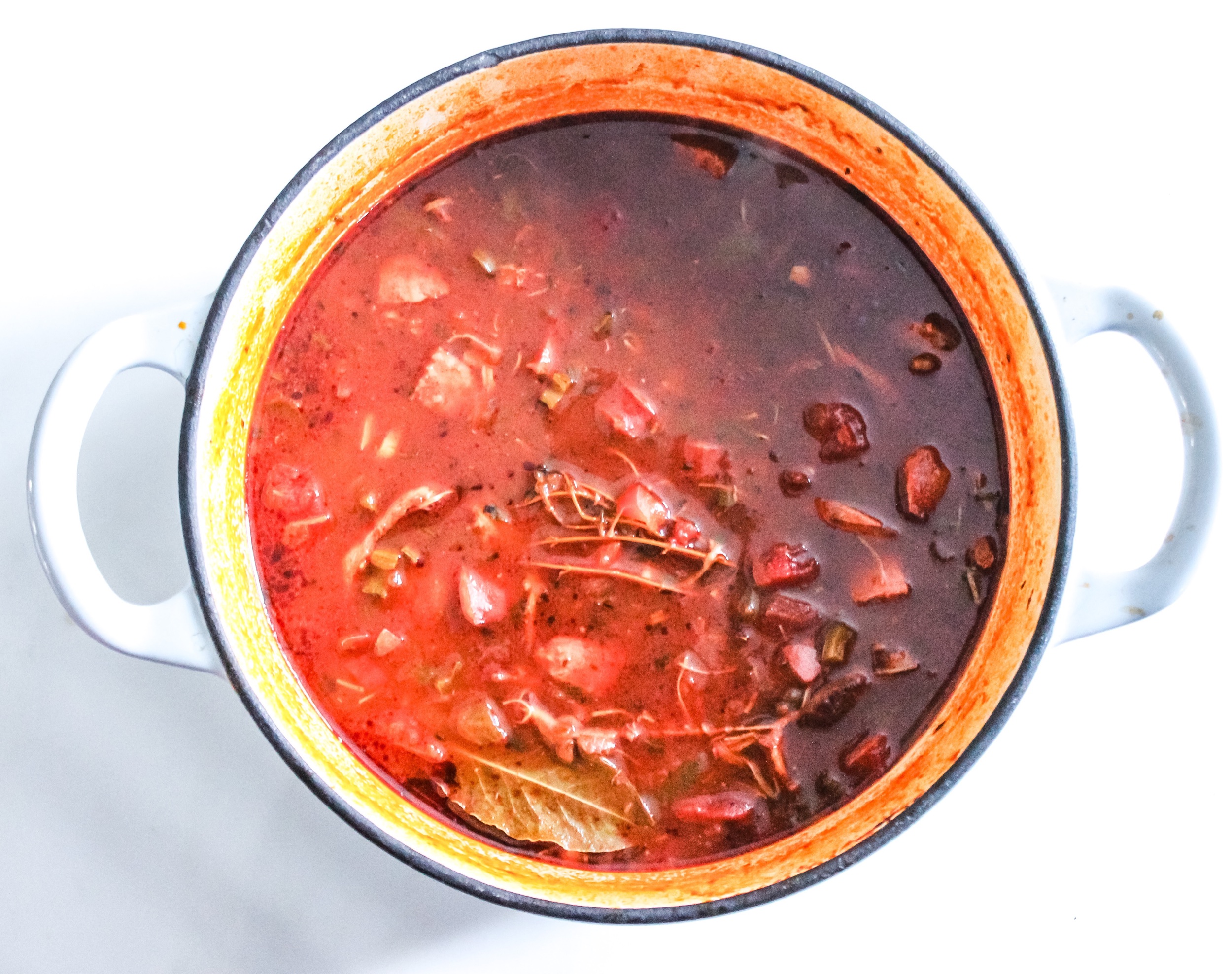 Gullah Geechee Charleston Seafood Gumbo
Prep Time: 30 Minutes | Cook Time: 1.5 Hour | Serves: 6 - 8 People
What You'll Need
2 pieces of fatback bacon or 3 slices thick cut bacon

1 smoked ham hock

2 quart shot water

2 cans of stewed tomatoes

2 tablespoons of tomato paste

1 bay leaf

1 teaspoon of dried thyme

1 teaspoon of fresh parsley

3 cloves of garlic, diced

1 large yellow onion

1 Andouille sausage

1 1/2 dozen clams

1/2 pound of lump crab meat

1 pound of medium to large shrimp, peeled and devained, tails left on

3 cups of okra, sliced

1/2 cup of red bell pepper, diced

1/2 cup of green bell pepper, diced

1 1/2 teaspoon of sugar

1 1/2 teaspoon of salt

1 1/2 teaspoon of black pepper

1 tablespoon of Worcestershire sauce

1 teaspoon of hot sauce

2 cups of white rice
Step One: Prep the Pot
Using a large cast-iron Dutch oven, place on stovetop on medium heat. First, fry the bacon. Once cooked, remove bacon, leaving the fat in the Dutch oven. Next, add the smoked ham hock and hot water. Boil for 30 minutes.
Step Two: Dump it In
Next, stir in stewed tomatoes, tomato paste, bay leaf, thyme, parsley, garlic, onion, clams, bacon, bell peppers, Worcestershire sauce and hot sauce.
Cook for 30 to 40 minutes, stirring occasionally. Allow gumbo to thicken.
Step Three: Season it Up
Remove ham hocks. Add crabmeat, shrimp, andouille sausage, okra, sugar, salt, pepper. Cook for 20 to 30 minutes, stirring occasionally.
Make sure that the soup does not become too thick. If so, add additional hot water.
Serve hot over white rice.
This gumbo is the perfect combination of spices and seafood to enjoy, during these late summer or early fall nights, along the coast.
This was my FIRST gumbo, and I'm quite proud of myself. It's flavorful, not too spicy, and of course - it's seafood. Try this recipe and let me know your thoughts below!