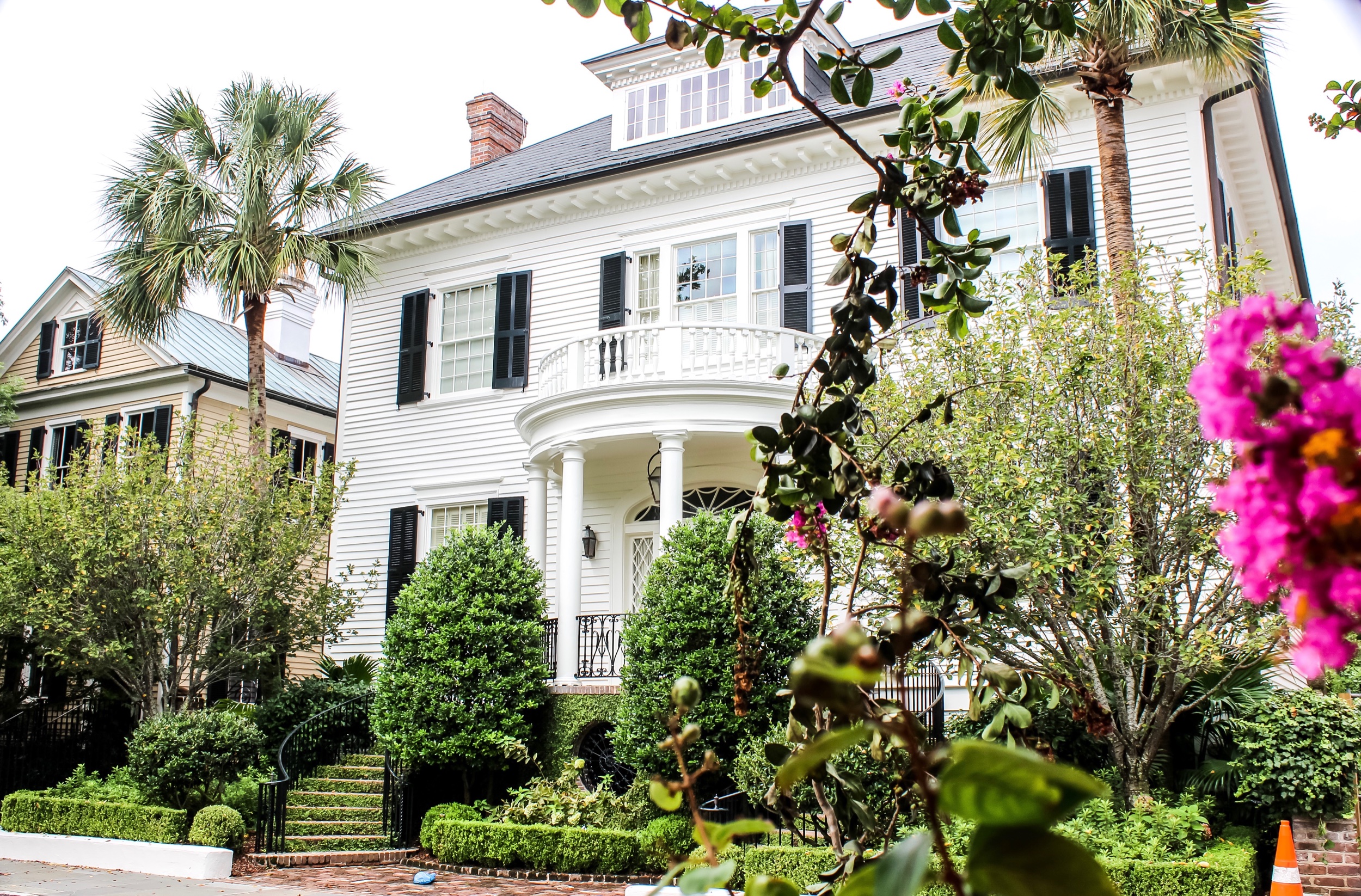 Southern Charm: Charleston Coastal Home Must Haves
10 tips to make your home feel like Charleston charm.
If you haven't figured it out by now, when I travel, I love to capture historical architecture of the homes in the area. Besides amazing food, Charleston is known for it's beautiful homes, dating back to the revolution. Similar to my hometown of Baltimore, Charleston has federal or Georgian homes, dating back to the 1700s, and its famous 1800s single family carriage homes, where the piazzas are intentionally built on the side to allow airflow from the Charleston harbor.
As I toured the homes South of Broad, I noticed that so many homes had the same elements, giving it that "Charleston charm." If you're a fan of HGTV's Good Bones like me, you know that this season, Mina Starsiak Hawk built her forever home, which replicated a Charleston single family carriage home with large piazzas accompanied with blue porch ceilings, iron fencing, and traditional and modern decor elements. I love how she pieced everything together, using lots of color, but still giving all the southern feels.
You guys know how much I love coastal decor, and often dream of a lake or beach home. Charleston coastal decor is different from nautical in the sense that you're adding MORE color than your traditional navies and whites, and you're adding lots of tropical accents like pineapples and palmettos.
Here's a quick top 10 list of things you can do to make your home feel like it's South of Broad, and belongs in Southern Living!
Step One: Bright Pastel Exterior Color
Every home in downtown Charleston and South of Broad were painted in beautiful pastel colors that exemplified the gorgeous sunsets overlooking Charleston's beaches. If you're going for a the look of a Charleston home, you've got to get the color right. Think soft whites, pinks, yellows, blues and greens.
Check out these gorgeous coastal exterior colors, from Sherwin Williams.
Step Two: Perfect Piazzas
Single family carriage homes have large piazzas for entertaining. Think multiple seating areas, with different purposes, like rocking chairs, sofas, and swing benches. The ceilings of the piazzas are painted a light blue to mimic Charleston's blue skies and the Atlantic Ocean.
Create the perfect piazzas with these options:
Step Three: Daring Front Doors
Charleston home owners are all about curb appeal, and their front doors get a lot of attention. Yes, you can do a bright color exterior paint on your front door, but you know what simple accent stood out on almost every one? Door knockers! So many homes had brass door knockers, and while some were traditional colonial style, many had their lucky pineapple knockers. I also saw a lot of lion brass door knockers. It is said that lions represented the British empire of King "Lionheart" Richard during the 1600s; and, three golden lions represent the coat of arms for the British monarch today. So, it's possible that many of the shipping merchants that emigrated from England chose this symbol as a reminder of their previous colonies.
Check out these eye catching door knockers:
Step Four: Pineapple Finials
According to Charleston natives, the pineapple is kind of a big deal. It's become a part of their culture and represents southern hospitality. After sea captains would return from their voyages, they would place a pineapple on top of a stick, in front of their home, indicating that the home was open to visitors. Thus, when you take a trip to downtown Charleston or the French Quarter, you'll find tons of homes with pineapple finials atop a gate post or a courtyard fountain.
You can find pineapple exterior finials here:
Step Five: Gas Lanterns
Did you know that Baltimore was the first U.S. city to have gas lanterns, after London and Paris? The United States began using gas lighting around 1816 and quickly found its way to Charleston streets. When you do a home tour South of Broad, almost every home has exterior gas lanterns. Gas lanterns are a low country staple, much like pineapple finials and blue porch ceilings.
Find traditional oil lamps here:
Step Six: Ornate Iron Gate
During the 1800s, wealthy shipping merchants living in downtown Charleston insisted on having cast iron for their courtyard gates and garden entrances. Like many of the craftsmanship you'll find in these historical colonial homes, slaves built these ornate fixtures that still stand today.
There are many blacksmiths in Charleston today, that specialize in iron fencing. Here are some options available online, or that can at least get your creative juices flowing so you can show them to your local fencing company:
Step Seven: Window Box Treatments
Summer may be over in the northeast, but I still needed to share these gorgeous window box planters. As you can see, homeowners plant gorgeous and colorful florals, like petunias, to compliment their pastel exterior paint choices.
Easy to order window boxes here:
Step Eight: Traditional Elements
If you subscribe to Southern Living or Charleston Magazine, then you know many Charlestonians incorporate traditional decor design into their homes. Think cherry wood and gold ornate hardware and fixtures.
If you like traditional style, then you'll love these:
Step Nine: Tropical Accents
But, Charleston homes are not all traditional. If you prefer transitional style like me, incorporate color and tropical accents that will brighten up your space and give it that true coastal vibe. This is going to be more pineapples, palmettos, beachy art prints, with coral and ocean tones.
Get beach vibes all day, here:
Step Ten: Chinoiserie Madness
Lastly, your Charleston home replica will need some chinoiserie vases. Chinoiserie ginger jars are generally a staple for traditional styled homes; however, they've become more and more popular over the years, often incorporated in transitional rooms. If you visit Charleston and follow my tour guide, be sure to stop at the Charleston Historic Foundation and get your shopping on. They have tons of chinoiserie vases, ginger jars and china.
Check out some of my chinoiserie favorites here: