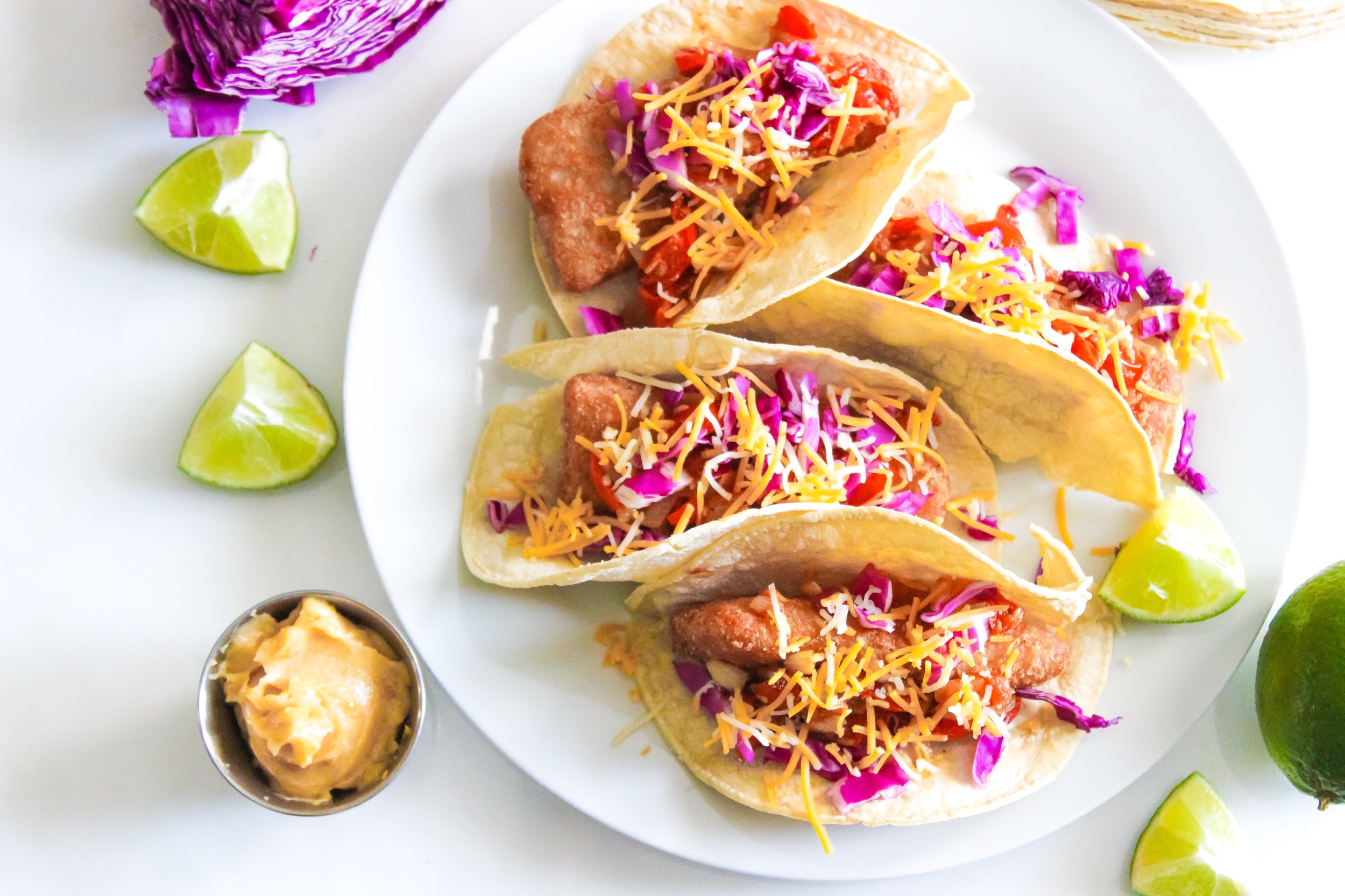 20 Minute Colorful Baja Fish Tacos
Beer Battered Fish with sautéed vegetables and Garlic Aioli Sauce
Happy Taco Tuesday! In honor of Cinco de Mayo, I thought I'd share my colorful fish taco recipe. It's so easy and quick for those weekdays. These simple ingredients are powerful and I was full after two tacos. I hope you enjoy.
Prep Time: 10 Minutes | Cook Time: 10 Minutes
What You'll Need (feeds four):
For the Taco:
4 Corn Tortillas

4 Gorton's Beer Battered Fish

1/2 cup of Mexican Style Cheese (Cheddar, Monterey Jack Cheese, Asadero Cheese, and Queso Blanco Cheese)

1/4 cup of chopped Red Cabbage

1 TSP of Minced Garlic

1/4 cup of Cherry Tomatoes

1/4 cup of Spanish Onion

1/2 Lime

1 TBSP of Virgin Olive Oil

1 TSP of Salt

1 TSP of Pepper

1 TSP of Paprika

1 TSP of Garlic Powder

1 TSP of Goya Adobo

1/2 an Avocado (optional)

Vegetable oil for frying fish
For the Garlic Aioli Sauce:
1/4 Cup of Mayonnaise

1 TBSP of Garlic Powder
First, heat olive oil in sauce pan. Chop the onions and tomatoes. Once diced, add minced garlic and cook in medium sauce pan on low. Season with salt, pepper, garlic powder, Adobo and paprika.
Stir frequently. Next, squeeze lime over the veggie mixture.
While veggies are cooking in sauce pan, heat your deep fryer to 350 degrees or heat vegetable oil in frying pan. Add fish and fry until golden on both sides.
Next, mix mayonnaise and garlic powder for aioli sauce. For hard taco shells, heat tortillas in oven for five minutes at 350 degrees. For soft taco shells, heat in microwave for 30 seconds.
Place cooked fish in tortillas. Sprinkle the veggie mix, red cabbage, shredded cheese and top with aioli sauce and avocados (optional). Happy Cinco de Mayo!