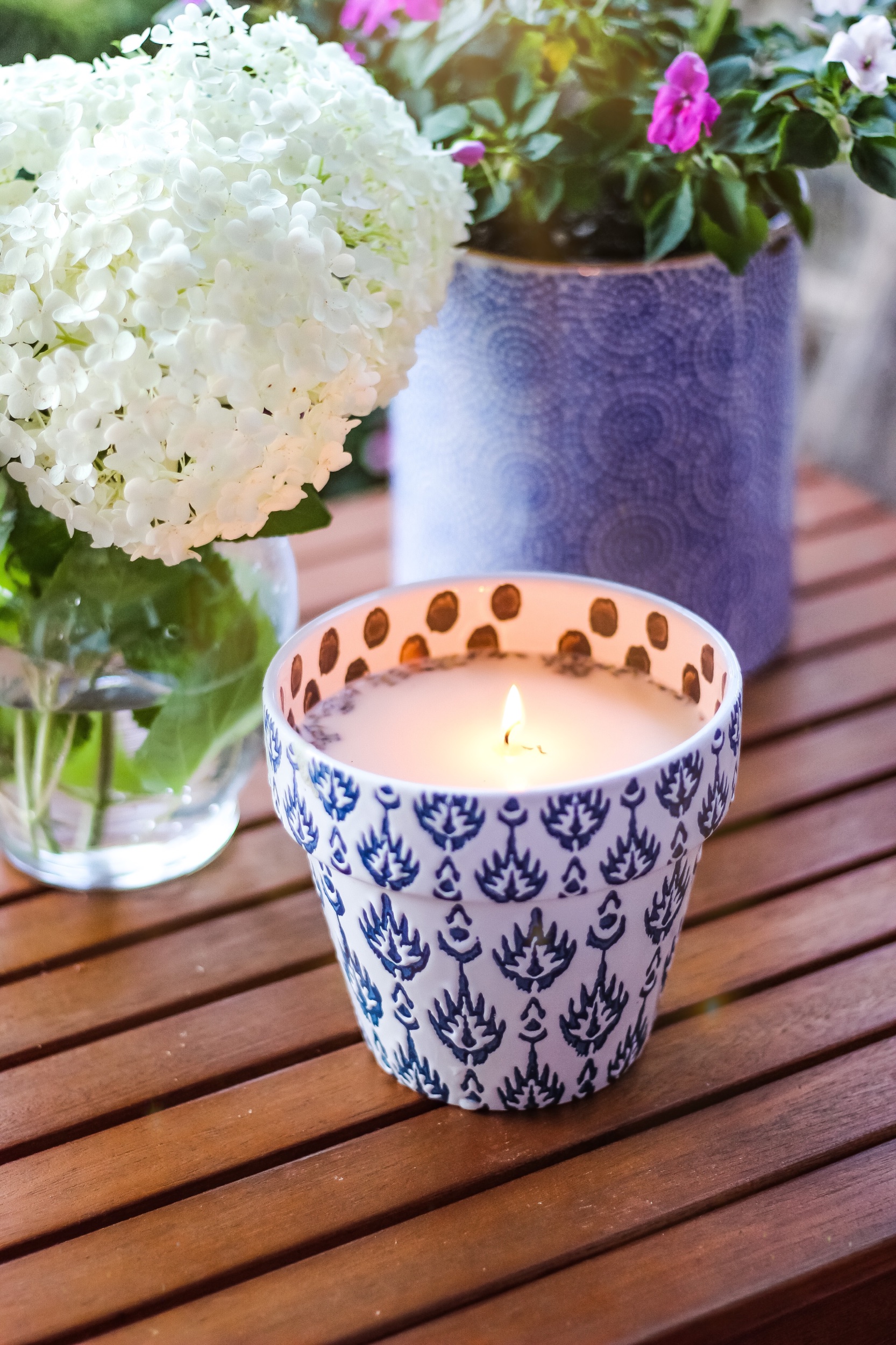 Summer Nights Citronella Candle
Make Your Own Luxury Candle
A few weeks ago, I attended a candle making workshop by a local candle maker and it was so much fun. I saved the instructions but had yet to actually make one. Now, Pepper and I sit outside every morning while I drink my coffee. We also sometimes sit outside when I come home from work, or on the weekends when I'm enjoying a new book. It never fails, but I am always feeling attacked by every mosquito in all of Baltimore.
Fed up, I went online searching for a citronella candle I would actually like. I enjoy using essential oils. They help me sleep and make my home smell fresh, so I'd like to think that I'm familiar with a lot of scents and what I like (or do not like). Well, every candle I found was either too boring (e.g., citronella only) or too expensive.
Of course I wanted the expensive one at Nordstrom; but who feels like paying that kind of money for an outdoor candle, that you'll have to buy again after you've burned it all? Sigh. Then I stared at the ingredients for a moment and thought, well, I can totally make that. And I did….so I thought I'd share!
Now granted, collecting the tools may seem like too much money at first, and you're better off buying the $100+ candle. Well, not really; because a $10 bag of 3lb soy wax is going to last you a few more candles for sure; and, there's nothing wrong with having the below oils tucked away in your cabinet (I spray Eucalyptus and Lavender oils on my sheets to help me sleep). So, you're getting much more use out of the list below than one expensive candle.
Prep Time: 1 Hour | Curating Time: 1 - 2 Days
What You'll Need
Step One: Prepare Your Candle Container
Preheat your oven to 150ºF — 170ºF, or the lowest temperature setting for your oven. Heating your container ensures that the wax adheres to the glass or ceramic and will reduce sinkholes.
Step Two: Melt the Wax
Pour 1 — 2 inches of water into a medium pot or saucepan. Bring water to a boil. Once water is boiling, pour wax into pouring pot and place metal pouring pot in the boiling water.
Use metal stirrer to continue mixing wax until thoroughly melted.
As you can see from the pictures further down below, I ended up using both the metal pouring pot from the candle kit, and an old measuring cup that I don't use anymore, since all three cups of melted wax couldn't fit into the pouring pot at the same time.
Step Three: Add Essential Oils
Using thermometer, check temperature of melted wax. You want the wax to reach between 170ºF and 180ºF. Once the melted wax reaches the desired temperature, add your essential oils. For the 3 cups of wax for the ceramic planter that I used, I measured the following:
30 drops of Citronella

10 drops of Coriander

10 drops of Thyme

15 drops of Eucalyptus

15 drops of Peppermint

10 drops of Lemon

5 drops of Vetiver
Using metal stirrer again, mix fragrances into melted wax thoroughly.
Remove the wax from the boiler and continue stirring for approximately 2 — 3 minutes, stirring slowly to reduce air bubbles.
Step Four: Wick Your Container
Remove the container from the oven and place on an even work area or counter. Using the wick sticker from your candle making kit, secure the cotton wick to the bottom of the container.
Step Five: Pour the Wax Mixture
When the wax has cooled to 125ºF, slowly pour the wax into the container. Do not pour beyond the widest part of the jar (pour close to the center of the jar, where the wick is placed). Depending on the width of your container, you can use the wick holders in your candle making kit. The ceramic planter I purchased from Lowe's was a little wide, so I used chopstics to secure the wick in place.
Allow the candles to cool completely and trim the wick to 1/4 inch.
Because I'm extra, I also added a few lavender seed buds I had leftover from my Himalayan bath salts.
I'm sooo happy with how it turned out. Now, every afternoon and evening, I light the candle as Pep and I sit on my front porch and i can honestly say that the bugs have stayed away.
Anything to reduce bug bites! I hope you like this fun crafty DIY project!