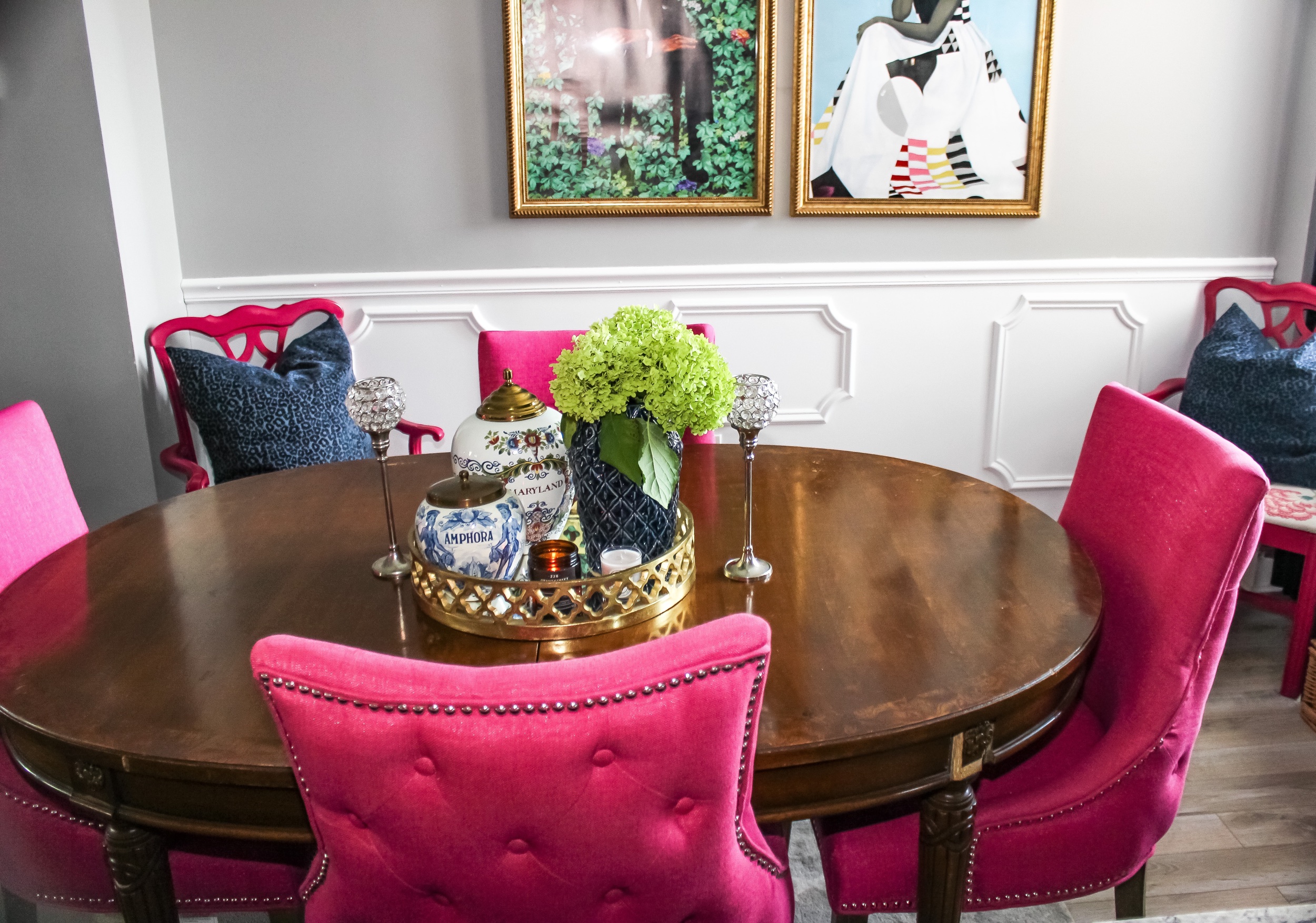 Wainscoting My Dining Room Feature Wall
I finally added some wainscoting to my dining room feature wall. I've imagined adding moulding to this wall ever since I moved in and never did. Surprisingly, this project was very inexpensive and only took a few hours.
Even though I only use my dining room when I have guests over, and my seller flipped the home with an open concept in mind, I wanted to add the moulding so that the space is more defined. Also, adding wainscoting always makes the room feel a little more traditional and luxurious. Since my home decor style is technically transitional, the wainscoting still blends in nicely.
Before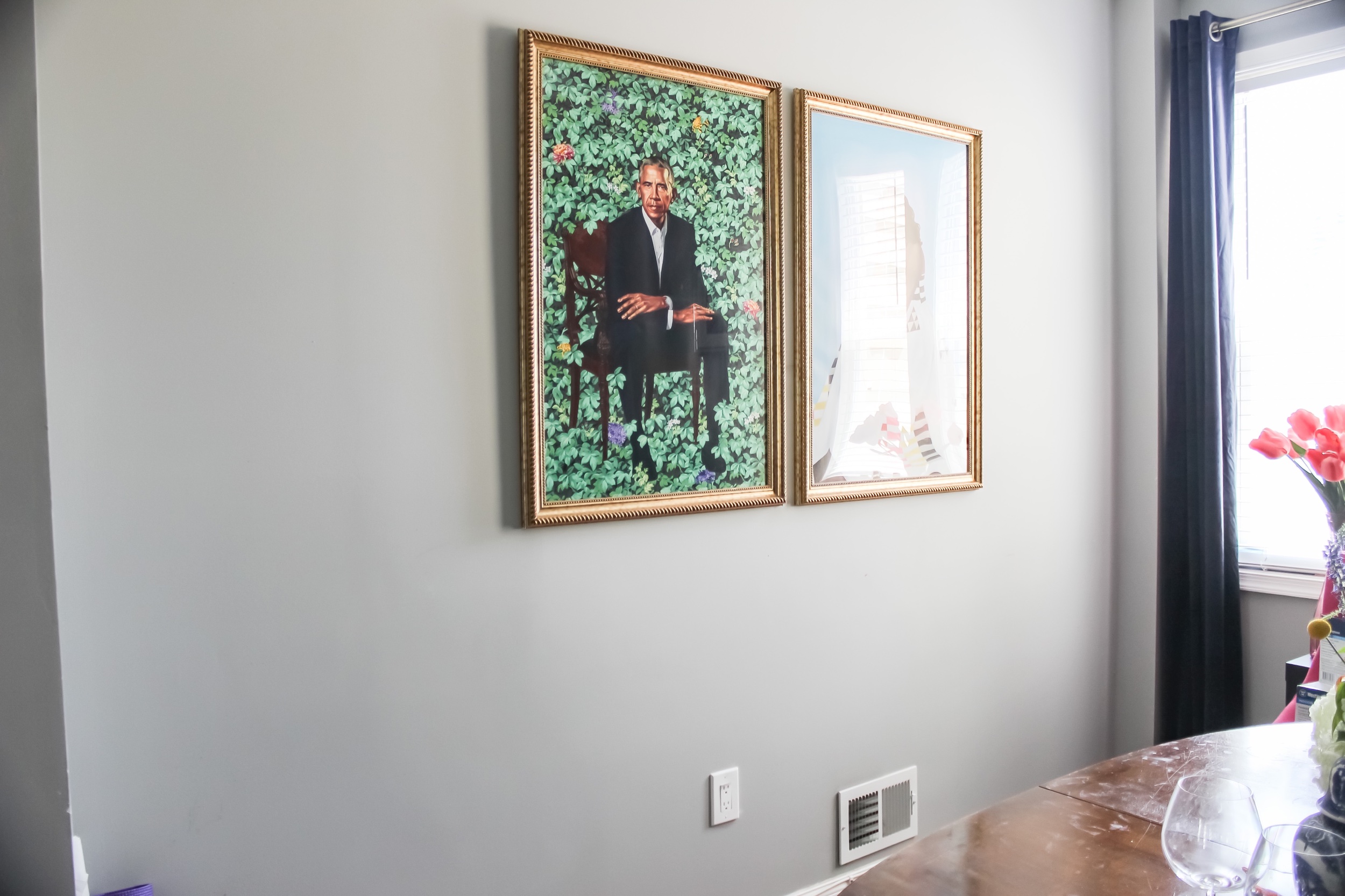 Project Time: 1 Day | Cost: Under $200.00 approx.
What You'll Need:
Step One: Clean Surface
First, using TSP Cleaner diluted with warm water, clean surface of area with cloth.
Step Two: Measure
Using your pencil and a tape measurer or level, measure 32 inches from the floor (for your average 8 ft. tall wall). Experts generally place chair rails at the bottom 1/3 of the wall. Thus, if your wall is taller than 8 ft. tall, then multiply that number (in inches) by 0.33. For example, if your wall is 10 ft. tall, multiply 120 by 0.33, which would place your chair rail at 39.5 inches. Mark where you intend to install the chair rail with your pencil.
Next, using your measuring tape, measure the width of your wall. Then, cut your chair rail to size with the hand saw.
Step Three: Apply to Wall
I then applied Gorilla Glue to the back of the chair rail. Next, place chair rail in the appropriate place marked by the pencil. Use your level to ensure that the chair rail is leveled evenly against the wall. Then, using finishing nails, nail the chair rail to the wall, starting in the center.
Step Four: Paint Chair Rail and Wall
First, using the paint roller and cover, I painted the chair moulding area (wall below chair rail) with white paint. I painted two coats on the wall. Then, using the paint brush, I painted the chair rail. I started the project in the morning; thus, I was able to apply the second coat later in the afternoon. Granted, professionals tell you to wait at least one day in between coats. But this s such a small area, I didn't see the need to wait that long.
Step Five: Measure Placement of Picture Frames
Once the area is dry, using your pen and measuring tape, determine placement of picture frame moulding. I placed my picture frames one inch from the bottom of the chair rail. Since my wall is 120 inches wide, I subtracted the combined width of the three picture frames (120 - 50 = 70 inches). Then I divided that number by the number of total spaces in between the picture frames. For example, from left to right, I have:
wall <—space —> picture frame —> space —> picture frame —> space —> picture frame —>space —> wall
Thus, 70 inches divided by 4 (spaces) = 17.5. I then measured 17.5 inches for each space. I used my pencil to mark placement and make sure the placement of picture frames looked even before install. To see if they lined up evenly, I affixed them to the wall with Blue Painter's Tape before nailing.
Step Six: Apply Picture Frames to Wall
Similar to the chair rail, apply Gorilla Glue to back of picture frame moulding and place in marked location on wall. Make sure that the picture frame is leveled. Then, hammer finishing nails to fix to wall. Repeat step for all picture frames.
**Note: If you need to cut your picture frame moulding, the Ekena Millwork picture frames are very easy to saw through with the hand saw. Simply use your measuring tape and pencil to mark where the picture frame should be cut.
Step Seven: Paint Picture Frames
After the picture frames are installed, paint over them with the same white paint previously used, this time painting over moulding with a paint brush.
Allow time to dry and use paint brush and paint for touch ups.
The most difficult thing about this project was the math for measuring, quite honestly. You can knock this project out quickly, depending on how many walls you're applying wainscoting. I'm so happy with how this came out. What do you think? Does the wainscoting give the space some depth? I'd love to hear your thoughts!