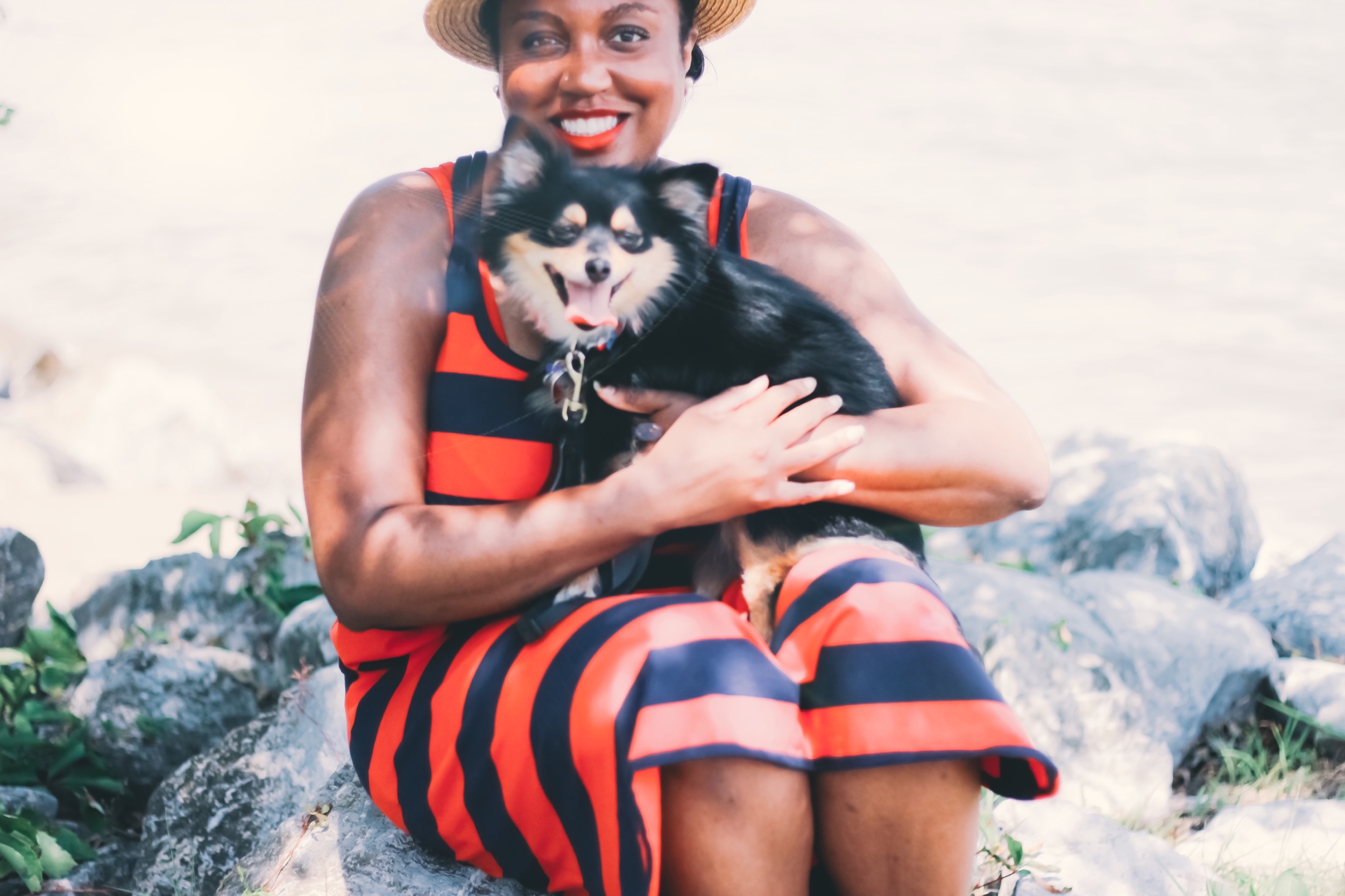 Safety Tips for Taking Your Furry Friend to the Beach
I recently took Miss Pepper Mint to Downs Dog Park and Beach and we had such a blast! It was both our first times at the dog beach and this will definitely become a frequent summer outing for us. I don't take Pepper to the dog park very often, so she seems to suffer from "Napoleon Syndrome" and shows aggression towards larger dogs that walk just a little too close to us. I suppose that's my fault, thinking trips to the dog park weren't necessary since we have a pretty nice size backyard. Not to mention the fact that she's very sociable and friendly with her fur cousins in Florida.
In prepping for our picnic at the dog beach, I made sure that she had a separate beach bag of all of her necessities:
Dog Beach Essentials
Leash and collar

Food and water

Dog bowls

Towel

Sunscreen

Beach umbrella (if no shade)

ID on collar

Poop bags

Chew toys

Garbage bags
Dog Beach Etiquette
Downs Dog Park is right along the Chesapeake Bay in Anne Arundel County. There is a large lawn that overlooks the bay, with large trees providing substantial shade. Thus, we found some shade, laid out our picnic blanket, and watched the waves (well I watched the waves) as we snacked on goodies. I made sure that Pepper and I practiced some beach safety and etiquette tips, not to disturb other dog owners and obviously to make sure Pepper didn't get overheated from being in the sun too long.
Keep Your Dog on a Leash
Per dog beach rules, all dogs must be on a leash so that all dogs can enjoy the beach while in the control of their owners. I brought Pepper's woven Vineyard Vines for Target leash, and a retractable 10 ft. leash, just in case the beach wasn't too crowded and she seemingly enjoyed the water.
Pick Up After Your Dog
Don't be that person that takes their dog to the dog park and beach and doesn't clean up after themselves. If you don't clean up after Fido, then you run the risk of local councilmen justifying the closure of dog beaches. Keep it clean for other pups.
Keep Your Dog Away from Other People
Granted Down's Dog Park and Beach is a place for dog owners and their pups to enjoy outdoor activities, it is still open to the community. It's important that you maintain control of your dog. Don't allow Fido to interfere in other patron's space, while they're picnicking, beaching, etc. Pepper is a little 10 lb Pomeranian, who definitely suffers from Napoleon syndrome. She doesn't like strangers, particularly if they get too close to her or I. The good news is, she won't just run over to a random person and /or their dog. But, it's still important that she understands basic commands and stays in her place. But I definitely allowed her to sniff fellow noses and greet other pups on the beach, when we had put our food and picnic away.
Don't Mess with the Wildlife
Fortunately, there wasn't too much wildlife on the dog beach. However, if you're at a beach that has wildlife, such as seagulls, seals, etc., don't allow your dog to chase after them. That's another reason why local laws require leashing; it's their habitat. We're just visiting.
Dog Safety Tips
Beware of Hot Sand
Hot sand can burn your pup's little paws. If the sand is hot, you may want to purchase a set of paw boots for Fido. Pepper has some, which I did pack just in case; but the sand wasn't hot in the beach area and we also picnicked in the morning, before it got excruciatingly hot.
Provide Shade and Water
I knew that there were shaded areas at the dog park, and beach areas. Since I wanted to picnic first, we sat under a tree the entire time, to prevent overheating. When it was time to pack up the picnic and head down to the beach area, there were lots of trees close by, for when Pepper was done playing in the water. If there is little to know shade at your local dog beach, you should bring an umbrella or beach tent to prevent your dog from getting heat exhaustion.
I also packed a cold large bottle of fresh water for Pepper. I kept the bowl of cold water out for her the entire time we picnicked.
Use Sunscreen
Both you AND your dog need sunscreen to prevent skin cancer. Yes, dogs can also develop skin cancer (I had no idea either). My local pet store did not have dog sunscreen. However, according to PetMD (https://www.petmd.com/dog/seasonal/can-dogs-wear-sunscreen), I can use sunscreen for adults or children; BUT, only sunscreens that do NOT have zinc oxide and para-aminobenzoic acid (PABA). I use Neutrogena Ultra Sheer Dry-Touch Sunscreen (SPF 55). According to the back label and their website, it is PABA free! And, there was no indication of zinc oxide. So, I rubbed sunblock on Pepper's ears and underbelly. She has a pretty thick coat, so I didn't put any on her full body or legs. I could have put some on her nose, but I didn't want to chance it since she likes to lick her nose.
If your dog goes swimming, you should reapply the sunscreen after they get out of the water.
Beware of Loose Dogs
At our dog beach, pups must be leashes at all times. However, you will come across an owner or two, that think their dog is the most highly trained and won't bother other dogs. Whether your dog is well trained or not, dogs are curious creatures. Even though Pepper was leashed at all times, there were moments where I had to keep an eye on her as another owner's dog would attempt to straggle over and say hi. Not knowing whether someone else's dog is aggressive or not, be aware of you and your dog's surroundings, in the even that someone's pup isn't leashed.
I hope all of you and your fur babes are having an amazing summer so far! If you have additional tips, leave a comment below!