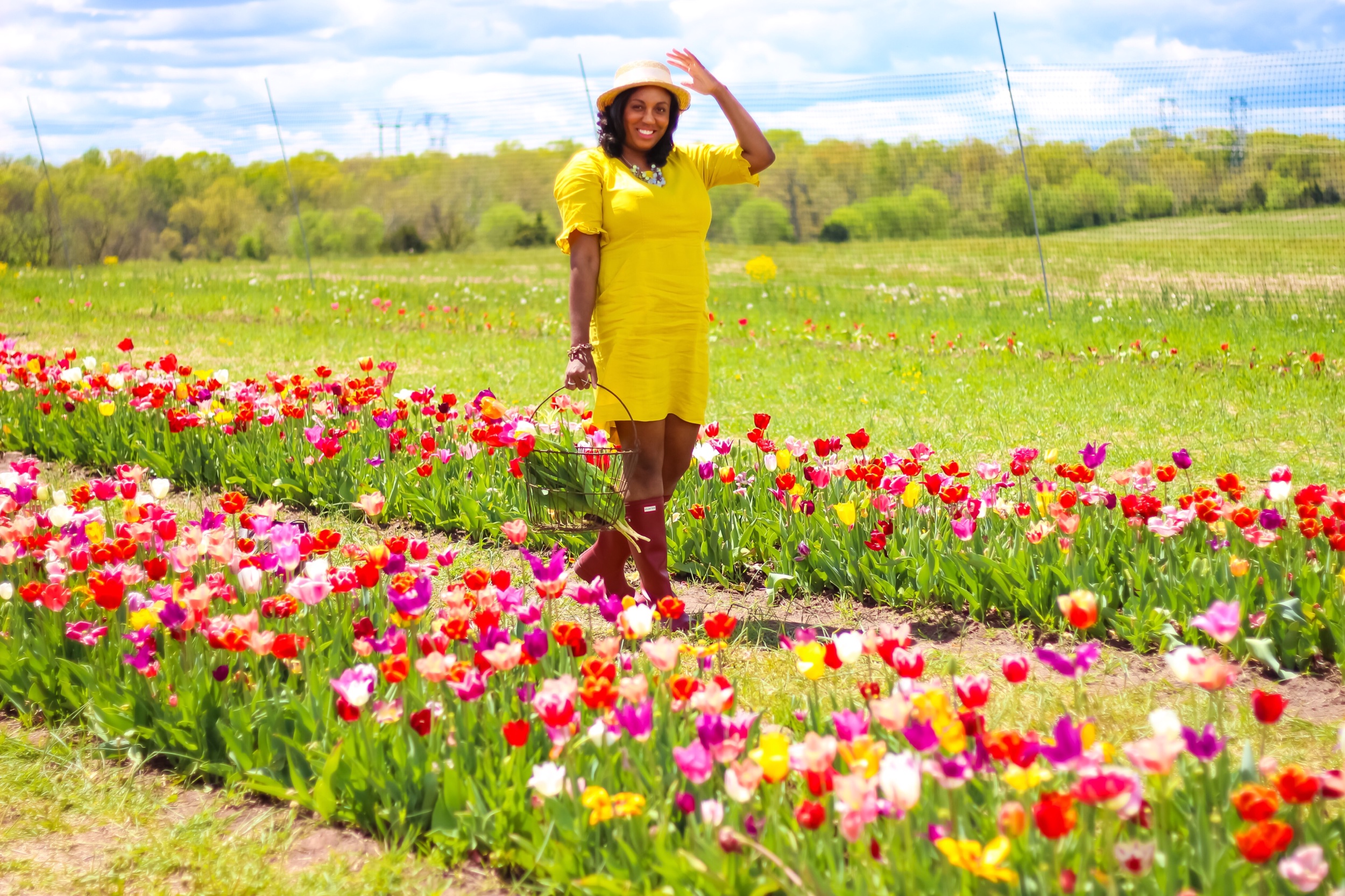 Easter Trip to the Tulip Farm
Our Day at Burnside Farms
My mom and I visited Burnside Farms in Virginia for the first time. It was absolutely gorgeous! Nokesville, Virginia is only 1.5 hour from Baltimore.
We decided to spend our Easter roaming around in the mud, picking tulips, because it was such a gorgeous day!
As you can see from the pictures, the tulips peaked and it was the very last weekend to see these blooms until next year.
I love tulips, and the brightness of each breed's petals. It's such a shame that they don't last very long.
I wore this Boden "Addilyn Linen Dress" in a canary yellow. One of the reasons why I love Boden dresses is because they are vibrant, just like these tulips. I dress my home, like I dress myself in the sense that I want to live in vibrant color. This linen dress was very loose fifting and lightweight, perfect for a day bending down and picking tulips. And it has pockets! I paired the dress with classic military matte red Hunter boots. Trust me, if you're visiting a flower farm - or even a pumpkin farm in the Fall - you want to wear your garden or rain boots. Did I mention this dress has pockets?
I will definitely be visiting Burnside Farms again (they have a sunflower field in the late Summer). The farm only charges $1 per stem; and, if you want to keep the bulb, it's only an additional dollar. I purchased about 5 stems, and 5 stems with bulbs. The bulbs, I replanted in a planter and water every other day. I will replant the bulbs in my garden this Fall.
My Tulip Care Tips:
For replanting bulbs in the Spring, cut the stem above at least two remaining leaves.

Add soil to your planter box. Make sure the soil is loose — if not, use a garden fork or tiller to loosen it up. Plant bulbs deep—at least 8 inches, measuring from the base of the bulb. The bigger the bulb, the deeper the hole it needs.

Place the bulb in the dirt, with pointy ends up. Next, cover with soil.

Immediately water bulbs. Move bulbs to outdoor garden in the Fall.

For planting bulbs in the Fall, plant bulbs in your outdoor garden and repeat steps 2 through 4. In addition, provide your bulbs a tulip fertilizer like, Jobe's Organics Bulb Plant Food Fertilizer.

Caring for cut tulip stems in a vase? Just give them fresh water every two days to help them last longer!