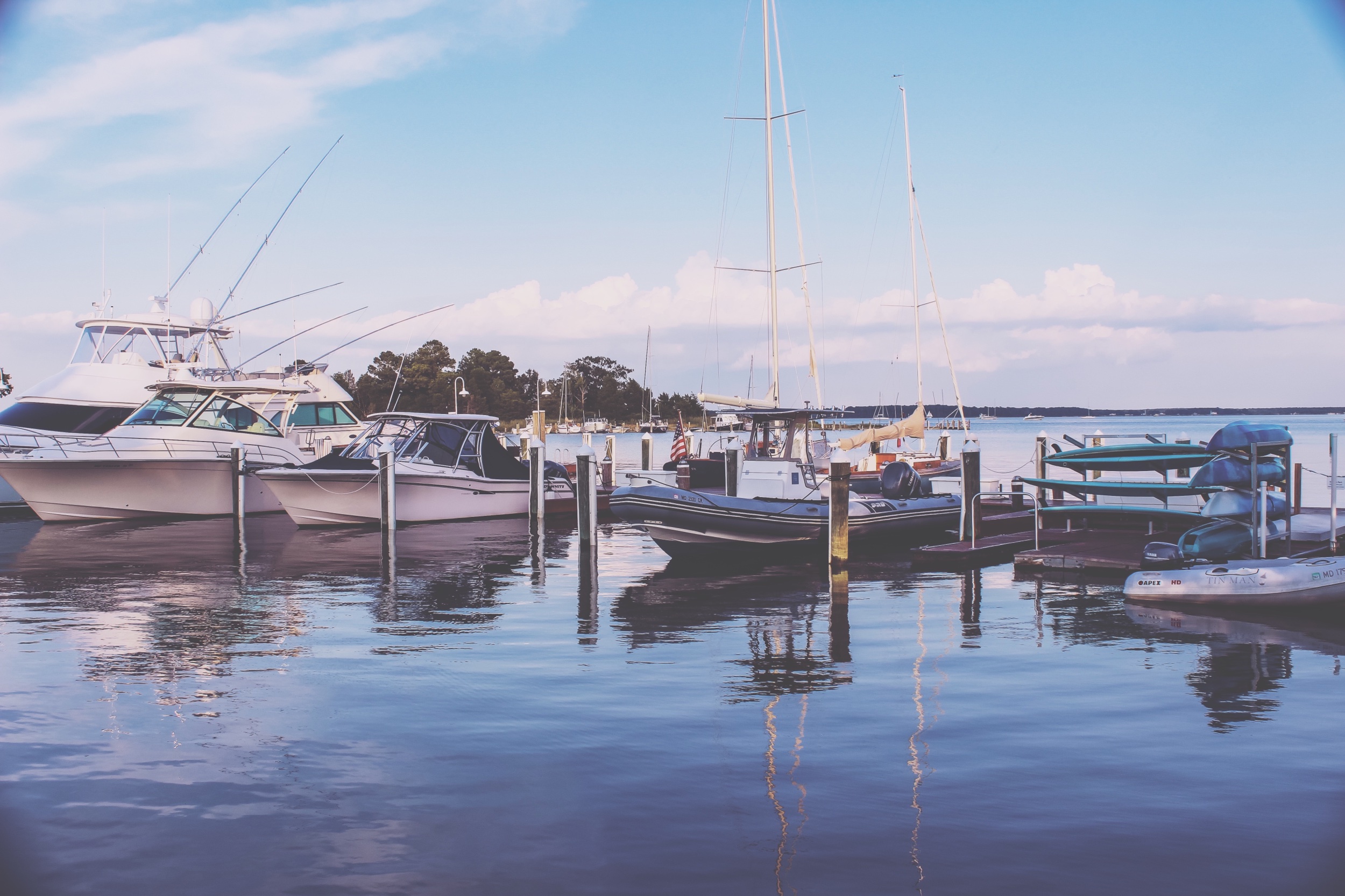 R and R Travel Guide: The Chesapeake Bay
At Tilghman Island and St. Michael's Island
My girlfriend's and I recently took a girls' trip to the Eastern Shore. I suppose this qualifies as a staycation for me, since I'm the Marylander. This was my first time on the Eastern Shore, since the furthest I've gone on the Chesapeake was Annapolis. Best decision ever! Honestly, it's only 2 hours from Baltimore (approximately 3 hours from Washington, D.C.). I've been itching to take another trip to Martha's Vineyard, but just couldn't do it this Summer because of work constraints. So, a quick three days vacationing on St. Michael's Island and Tilghman Island were just what I needed for a quick recharge before some serious work travel.
The Eastern Shore proved to be the perfect beach location when places like the Hamptons, Martha's vineyard, or Cape Cod are just too busy or too expensive. I know that I'll get a lot of questions about how I mapped out my itinerary for the weekend, so I thought I'd do a quick travel guide for you all.
Stay at the Wylder Hotel on Tilghman Island
We specifically chose to stay at the Wylder Hotel on Tilghman Island because of its location, a little further away from the hustle of St. Michael's but still easy access to the Chesapeake Bay. The fully renovated hotel has a saltwater pool, is home to Bar Mumbo and Tickler's Crab Shack, and available daily sailing on the Lady Patty Yacht.
Wylder Hotel has beach bungalows that were recently remodeled. They have porch seating, are a quick walk to the saltwater pool and Tickler's Crab Shack. The main house has second floor rooms with views of the Chesapeake Bay.
Day One Morning
Brunch at the Chesapeake Bay Beach Club on Kent Island
On the way to our hotel, we first stopped at the Chesapeake Bay Beach Club on Kent Island. The beach club has a small restaurant called The Market, which makes decadent sandwiches and pies. I ordered the Italian, which was amazing. The sandwhich was too big to finish in one sitting. We sat on their patio, where they played great music and also had a cocktail bar. I'd drive back to Kent Island just to have one of their sandwiches again.
Relax at the Saltwater Pool at the Wylder Hotel
After touring the hotel in awe of the gorgeous nautical decor and beautiful water views, the ladies and I hung out at the hotel's salt water pool. The place wasn't too crowded and we got to soak up the sun all afternoon. There are also some cute lawn activities that you and your family can enjoy.
Have a local ale at Tickler's Crab Shack
After relaxing for a bit, we stopped at Tickler's Crab Shack and had a couple of drinks. There was a large wedding party having their dinner rehearsal on the premises; so, we opted to only stay for a bit and have dinner in town instead.
Dinner at Awful Arthur's
Our first meal in Saint Michael's was at Awful Arthur's seafood restaurant, on the main road. IT WAS DELICIOUS. I couldn't wait to dive into my fried oyster po'boy, that I started devouring it before I snapped this picture (oops!). The oysters were seasoned to perfection, and their crab cheese dip will melt in your mouth.
One of the things that you'll quickly notice about Talbot Street in downtown Saint Michael's is that almost all of the shops and restaurants are historical homes that were remodeled or commercialization. Many of the restaurants are victorian farmhouses, like Awful Arthur's, and offer outdoor seating. I also noticed that many of the places were dog friendly and provided patrons with dog bows for their furry pups.
Ice Cream at Justine's Ice Cream Parlor in St. Michael's
After dinner, we stopped at the local ice cream shop that's been in business since the late 80s.
Pick up Snacks at Tilghman Island Country Store
We made a quck pitstop at the locally famous country store on Tilghman Island. The store is simply a convenience store, but also provides groceries and locals. Thus, it was the go to for cold water and snacks.
Breakfast at The Galley on St. Michael's Island
We decided on breakfast at The Galley, a local breakfast café on Talbot Street. It was very crowded, so the food took longer than expected; and, I didn't think there was anything special about the options on the menu itself. If you like a simple breakfast, without any fancy tweaks to traditional menu items, then this place is for you.
Shopping in Saint Michael's
Stuffed, we walked up and down Talbot Street to visit the local shops. There were antique shops, gift shops, art galleries, and home decor interior studios. While you can find reasonably priced souvenirs and t-shirts, the antiques, art and home decor options were on the expensive side, especially nautical art and decor.
Wine Tasting at Saint Michael's Winery
Saint Michael's Winery is at the very beginning of Talbot Street, as soon as you drive into downtown Saint Michael's. It's a small winery that opens at 11:00 a.m. each day, and offers $1.00 wine tasting samples. You can taste wine a la carte or taste all of their dry wines for $5.00, or all of their sweet wines for $7.00. If you want to try all of their wines, it's $10.00 total. Steal, right?
My favorite wines were the Maryland Chardonnay, Gollywobbler White and Gollywobbler Pink. I purchased a bottle of the Gollywobbler White, which was only $15.00!
In the summertime, the winery offers homemade slushies made from their Gollywobbler White and Gollywobbler Red wines. So delicious in 90º weather, I must say.
The winery gets a little crowded, but they were well staffed and we were able to start wine tasting as soon as we got there, not needing a reservation.
Stars Restaurant at Perry Cabin on Saint Michael's Island
First, let me just say that Stars Restaurant at Perry Cabin has $$$$ on Yelp, but it was worth every single penny. Stars is probably one of the best meals I've ever had in my life. Every single plate we ordered was seasoned and cooked to perfection.
We ordered the Maryland Crab Cakes, and the lump crab meat was sweet and buttery, and were very large, almost difficult to finish.
I personally ordered the rockfish, since I noticed that many of the local restaurants had rockfish on their menu. The fish was flaky, moist but not undercooked. The skin was crispy and well seasoned. Under the rockfish, there was crab meat, golden raisins, capers, pine nuts and roasted cauliflower, topped with vegetable jus. It was divine. Now, I'm tempted to replicate the recipe some how, but haven't the slightest idea what he seasoned the fish with.
For dessert, we shared a rich chocolate brownie cooked in pork fat. Yes, you read that correctly. Pork fat, not butter, oil, or margarine. The brownie had an outer crust, that tasted something like a pie crumble, with a graham cracker bottom; the center was a moist brownie with cake texture, with small pieces of bacon. OMG. Talk about needing to master my baking skills.
Finally, Perry Cabin is worth visiting for both the architectural and Chesapeake views. It sits on the bay, a much larger property than Wylder Hotel, with large outdoor seating. Quite honestly, it's a wedding planner's dream for a wedding venue.
Brunch at Limoncello's Restaurant
After spending the morning at the saltwater pool, we checked out of our hotel and headed back to downtown Saint Michael's for brunch. Limoncello's is Saint Michael's famous Italian restaurant.
This trip was the perfect girlfriends weekend getaway. I think as long as I'm living in Maryland, I'll make a mini vacation on the Chesapeake Bay an annual ritual. Maryland is such a big state, although deceivingly small when people only know Baltimore and it's neighbor, D.C.