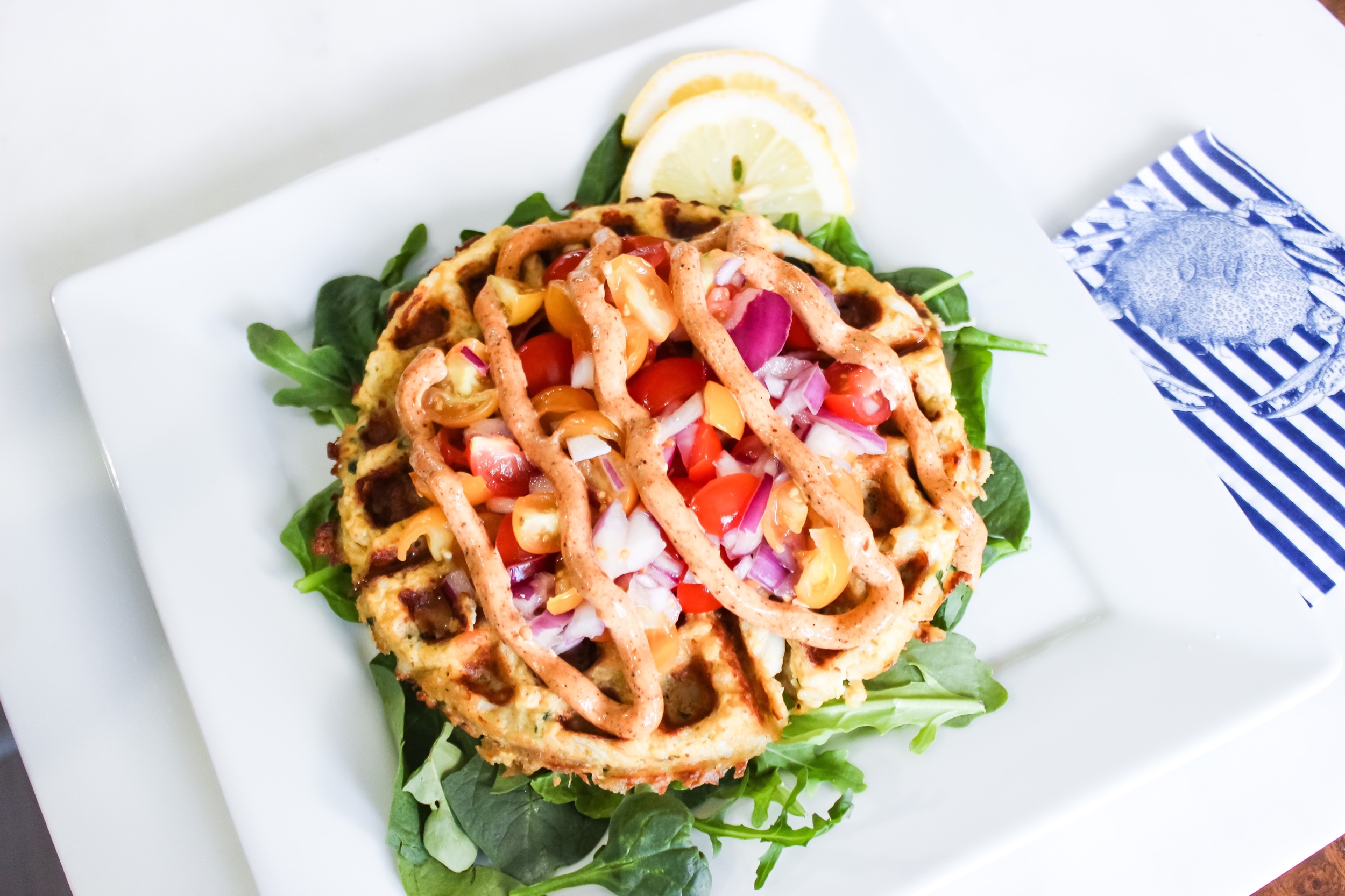 Maryland Old Bay Crab Cakes
With Chipotle Aioli and Tomato Salsa
I'm excited to share this recipe because I usually do NOT like crab cakes but OM….G….these were SO good. I also opted NOT to be traditional and cook these in the oven. Instead, these babies were cooked in the waffle maker. That's right. Nice and crispy with a pretty little presentation. :) Your family is going to love these.
This recipe makes four since each quarter of the waffle is about the same size as a traditional baked crab cake. I was only able to eat two of these in one sitting.
Prep Time: 30 Minutes | Cook Time: 20 Minutes (Makes 4)
What You'll Need
Crab Cakes
1lb. (16 oz.) of Lump crab meat

2 large eggs

2.5 Tablespoon of Mayonnaise

2.5 Teaspoon of Grey Poupon Dijon Mustard

1 Teaspoon of Worcestershire Sauce

1 Teaspoon of Old Bay

1/4 Teaspoon of seasoning salt

1/4 Teaspoon of cracked black pepper

1/4 Cup of chopped celery

2 Tablespoons of finely chopped fresh parsley

1/4 Cup of Panko bread crumbs

4 Teaspoons of Ghee Butter or Olive Oil

Arugula for garnishing
Tomato Salsa
1 Cup of plumb tomatoes (yellow and red mix)

1 Red onion

1/2 of a lemon
Chipotle Aioli
4 Tablespoons of mayonnaise

1 Tablespoon of black pepper

1 Tablespoon of salt

2 Tablespoons of garlic powder
In a large bowl, combine eggs, mayonnaise, dijon mustard, Worcestershire, Old Bay, salt, pepper, celery, and parsley and mix well.
After mixing, add the crab meat and panko; fold mixture gently, as to not shred the meat.
After crab meat is mixed well, turn on waffle iron. Grease waffle iron with either Ghee butter or olive oil. Once heated, add crab cake mixture to waffle iron and cook for 20 minutes or until golden brown.
While crab cakes are cooking in waffle iron, begin dicing tomatoes and onions. Place in a bowl and squeeze the lemon, coating the tomato and onions. Mix well to ensure. You may add salt and pepper to taste for the tomato salsa; however, I opted not to because the crab cakes and aioli have so much flavor.
Finally, in preparing the chipotle aioli, mix mayonnaise, salt, pepper and garlic powder in a bowl. Next, place mixture in a small ziplock bag. Make a small cut at the bottom of corner of the bag.
After you remove the crab cakes from the waffle maker, place crab cakes on bed of arugula. Next, top crab cakes with tomato salsa. Then, squeeze aioli out of the corner of zip lock bag.
Before I took my mini vacay trip to Tilghman Island and St. Michael's island, I made my way down to Florida and served these up to my parents. My dad is slightly obsessed now, and after you have a bite, I think you will be too. So easy. So quick. So Tasty. Enjoy!