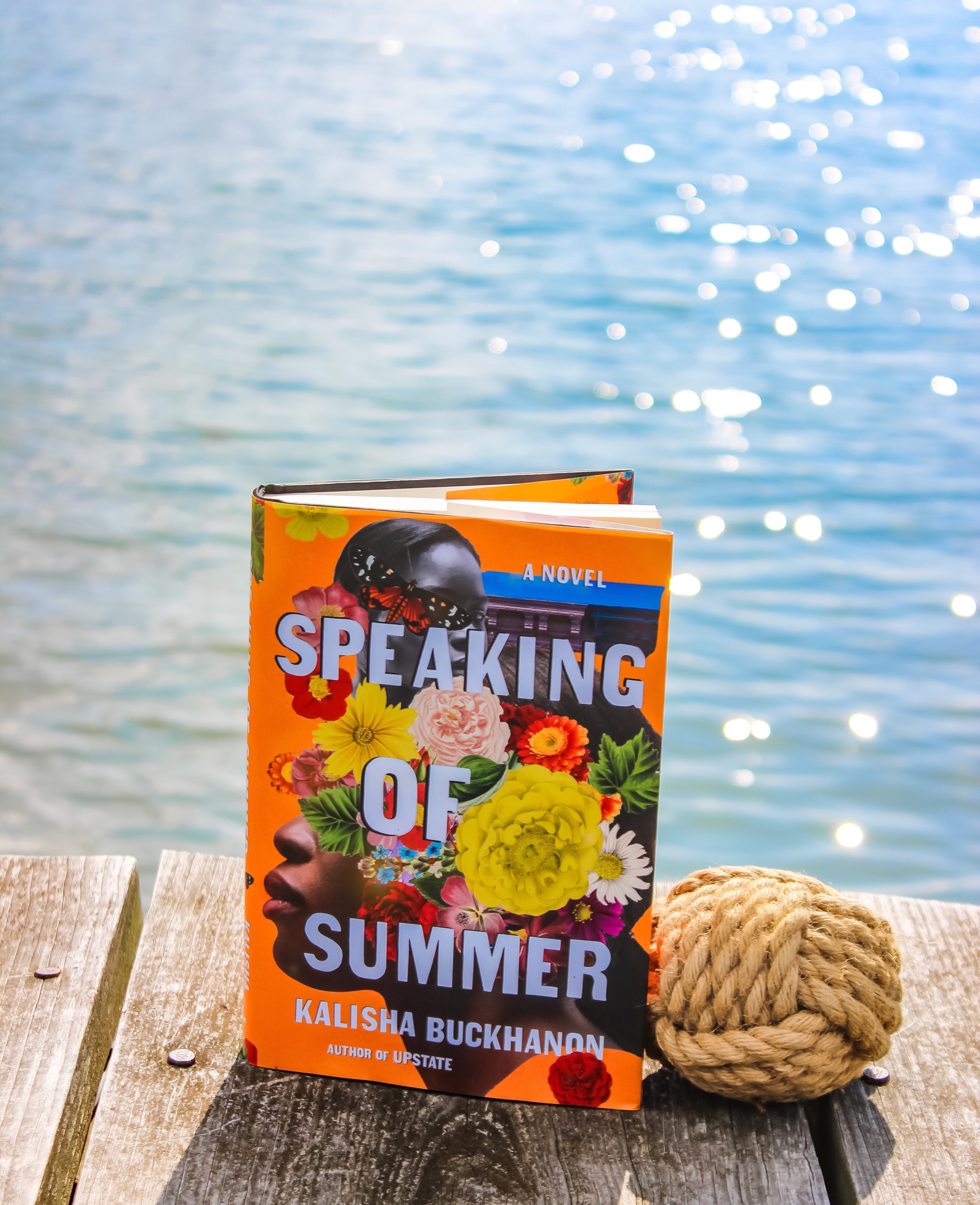 Author Kalisha Buckhanon Making Waves in Literature
Author: Kalisha Buckhanon | Genre: Fiction | Published: July 2019
I was very excited to get this book in my hands, when it was released a few weeks ago. How could you NOT want to read this book, based on the cover alone?!? Isn't it gorgeous? The hardcover jacket was designed by artist Jaya Miceli, who also did Little Fires Everywhere by Celeste Ng and The Gifted School by Bruce Holsinger.
Anyways, Speaking of Summer is about Autumn Spencer, a young woman with a twin sister named Summer. They're from the midwest, but venture to the city that never sleeps, in search of the same 'ol same 'ol that most young people pursue when they move to New York City. While Summer is characterized as the struggling artist whose paintings haunt the history of the girls' past, Autumn is the writer, with several business clients. It's Autumn's work, that funds their apartment in Harlem, keeping their lifestyle afloat. Then one freezing winter night, Summer goes missing. She was last seen on the roof of their apartment building, her footprints still in the snow. And the that was last time anyone saw her.
What I liked…
I greatly enjoyed how the author really highlighted both external and internal issues that a family member may face when their relative goes missing. The author properly articulates the trauma and difficulties that Autumn personally experiences as a result of Summer being a missing woman of color. For example, the author makes it a point to remind the reader that Black girls and women who go missing are often overlooked by law enforcement and the media. In 2018, over 424,000 children were reported missing to local law enforcement officials. Researches contend that there are approximately 75,000 missing Black women and girls nationwide. Autumn repeatedly goes to see Detective Montgomery, who is assigned to her case, but he seemingly lacks motivation in the search for Summer. Autumn notices that her only two girlfriends haven't brought up Summer or her disappearance; so, Autumn purposely avoids the topic of her sister feeling as though no one is concerned about her untimely departure except her. Buckhanon also illustrates how trauma can alter and affect your mental and emotional health; and, how left untreated, can procure harmful results.
Then there's Chase, Summer's boyfriend. In a moment of complete vulnerability, due to the death of their mother, Autumn sleeps with her sister's boyfriend. They begin their affair, right before Summer goes missing. Now, Autumn can't help but wonder if it was her own selfishness that pushed her sister away.
What I loved about this book is that nothing is what it seems. After about 75% of the book, the author does a complete plot twist and you won't know what to think. In the end, Autumn begins a dedicated attempt to find herself; and in the process, answers the main question of whether anyone found Summer.
What I didn't like…
I couldn't think of anything negative about this particular book. This was my first Buckhanon novel and I was genuinely impressed by her creative writing style and the relatable character of Autumn.
This is one of the few books that I can honestly say I will probably read more than once. Have you read this amazing novel yet? What did you think of Autumn's relationship with Summer and Chase? Leave your comments below. I'd love to hear your thoughts on this book!
You may also like…