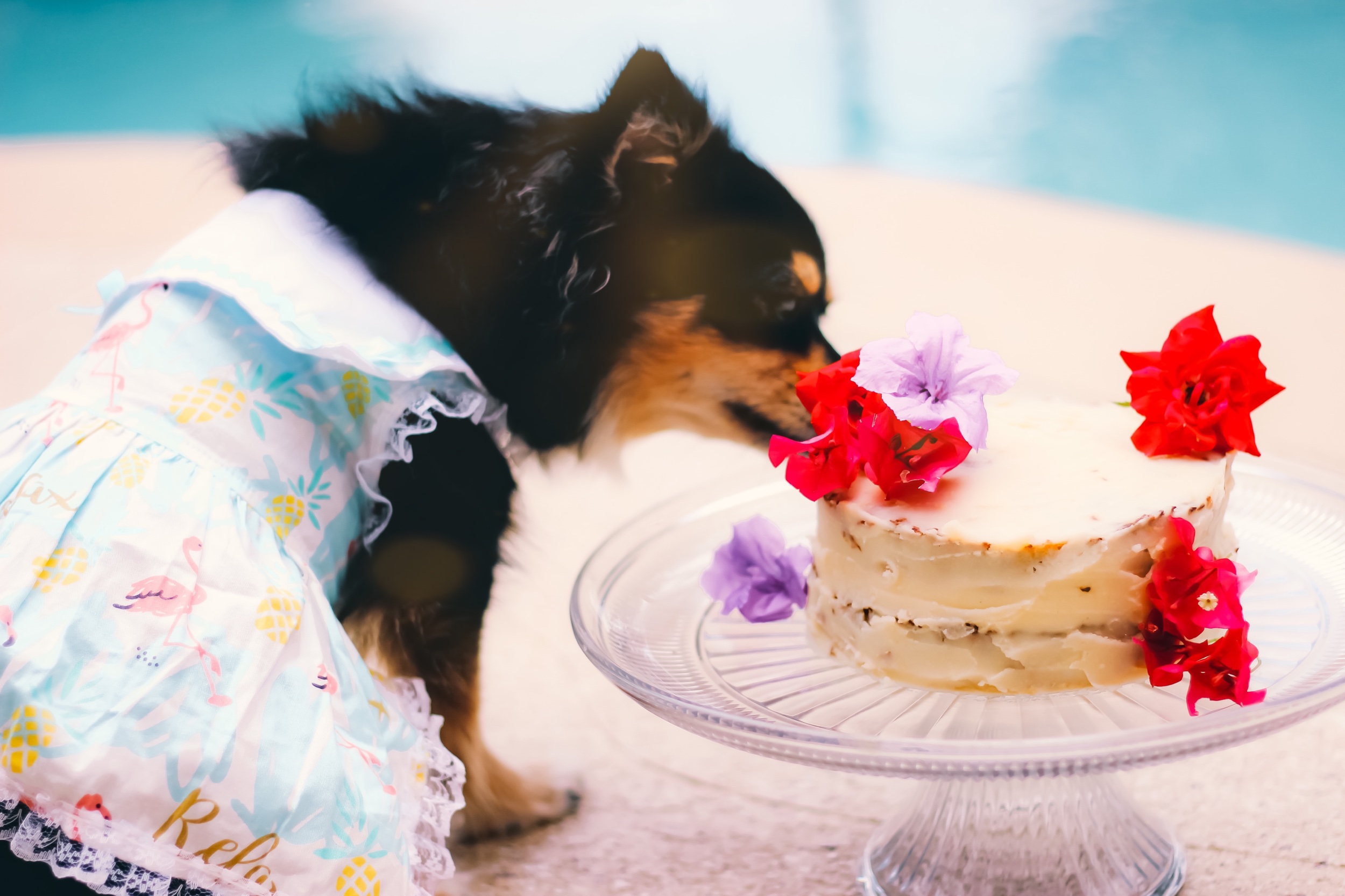 Happy 3rd Birthday, Pepper Mint!
Chicken Meatloaf Cake Pawty
It's Pepper Mint's 3rd birthday. Since we were in Florida, I wanted to make Pepper and her cousins, Ginger and Bleau, a special treat they could share. All three girls, especially Ms. Pepper, LOVE chicken. So, I concocted this recipe, along with some of her favorite veggies (e.g., sweet potato) and decided on a meatloaf. I discovered that bananas are good for your dog because of the benefits of Potassium — however, like anything, it's a rare special and infrequent treat since bananas are high in sugar. Another reason why I opted on a meatloaf: my dog hates dog biscuits and other dog sweet treats. So, an actual peanut butter dog cake would have been a waste for her.
If you decide to make this for your pup, let me know if your fur baby loves it. Pepper and her cousins sure did!
Prep Time: 30 Minutes | Cook Time: 45 Minutes
What You'll Need:
1 Pack of Ground Chicken

1 Sweet Potato (Cooked)

1 Banana

1/4 - 1/3 Cup of Carrots (Cooked)

2 Eggs

1/4 Cup of Panko Bread Crumbs

1 Box of Mashed Potatoes

1/4 Cup of Shredded Cheese

4" Round Cake Baking Pans

Non-stick spray for greasing
First, mash banana, sweet potato and carrots in a large mixing bowl.
Next, add ground chicken, eggs, bread crumbs and cheese. Mix thoroughly. Then, spray baking pans with non-stick spray. Place mixture in baking pans just like you would a cake mix.
Place meatloaf in baking pans, in the refrigerator for one hour, minimum.
Place in oven at 350 degrees for 30 minutes. While meatloaf is cooking in oven, cook mashed potatoes per boxed instructions.
Once cooked, remove from oven and allow meatloaf to cool.
Lastly, remove meatloaf from cake pans. Spread mashed potatoes over meatloaf like frosting. Garnish with shredded cheese and you're done!