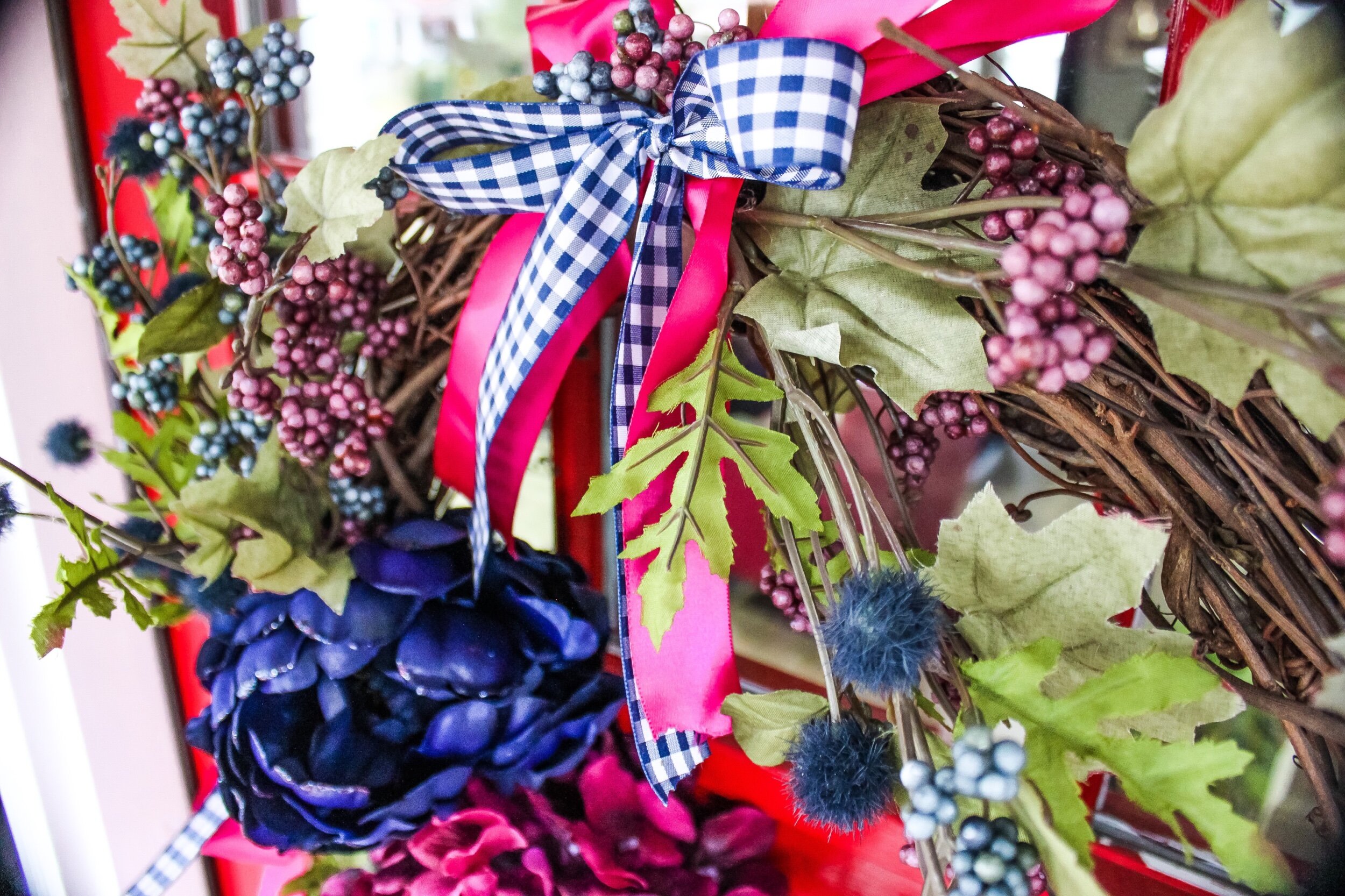 DIY on a Dime: Fall Wreath for Less
Your $200 Fall Wreath for Under $40
Happy Fall! For those of you who have been following, you know that my the main floor of my home is loaded down in grey, navy, and pink. Every holiday season, I'm ready to whip out the Fall and Winter decor, but traditional colors, like red, orange and yellow clash with my decor. Not only that, but I'm obsessed with so many talented artisans on Etsy, who have great seasonal decor; BUT, they are way out of my price range. Your average autumn wreath will set you back an easy $200.00 or more. I can think of a million other things I can easily spend that much money on, and a wreath just isn't it. Naturally, I thought, I can definitely make some of these myself, for much less.
Sure enough, I stopped by Michael's and picked up these products, and was able to make my wreath in about an hour (and under $40 thanks to their ongoing sales and coupons).
What You'll Need:
wreath

navy gingham ribbon

pink solid ribbon

magenta velvet pumpkins

navy pom poms

faux berries

magenta hydrangea

navy peony

twine
Step One: Cut Branches from Berry Bushes
Your faux berry bush comes as one large wired stem, with several branches. Cut the branches from the main plastic stem, separating them individually.
Step Two: Begin forming your Bundle
After cutting each branch from the plastic stem, begin arranging your florals. I started with one magenta and one blue berry stem each, then adding the navy pom poms. Continue adding to your bundle. You will need three bundles of your cut stems.
Step Three: Place Bundles on Wreath
Once you bundle your branches, apply them to the desired place on the wreath. I placed my first bundle at the top part of the wreath, with the florals facing to the right. Next, I attached the branches to the wreath with twine.
Step Four: Ensure All Bundles are Fastened
After fastening one bundle of branches to the top of the wreath, I attached two bundles to the left side of the wreath, like below.
Step Five: Add Ribbons
Take the larger ribbon (solid pink) and tie a bow over the twine, in both places.
Step Six: Add Large Florals
Cut the head of the flower from the long stem, leaving about 0.25 - 0.5 an inch of stem. Next, place stem in between vines of the wreath, so it holds in place.
Go ahead and hang it up (and get to decorating that front porch!).