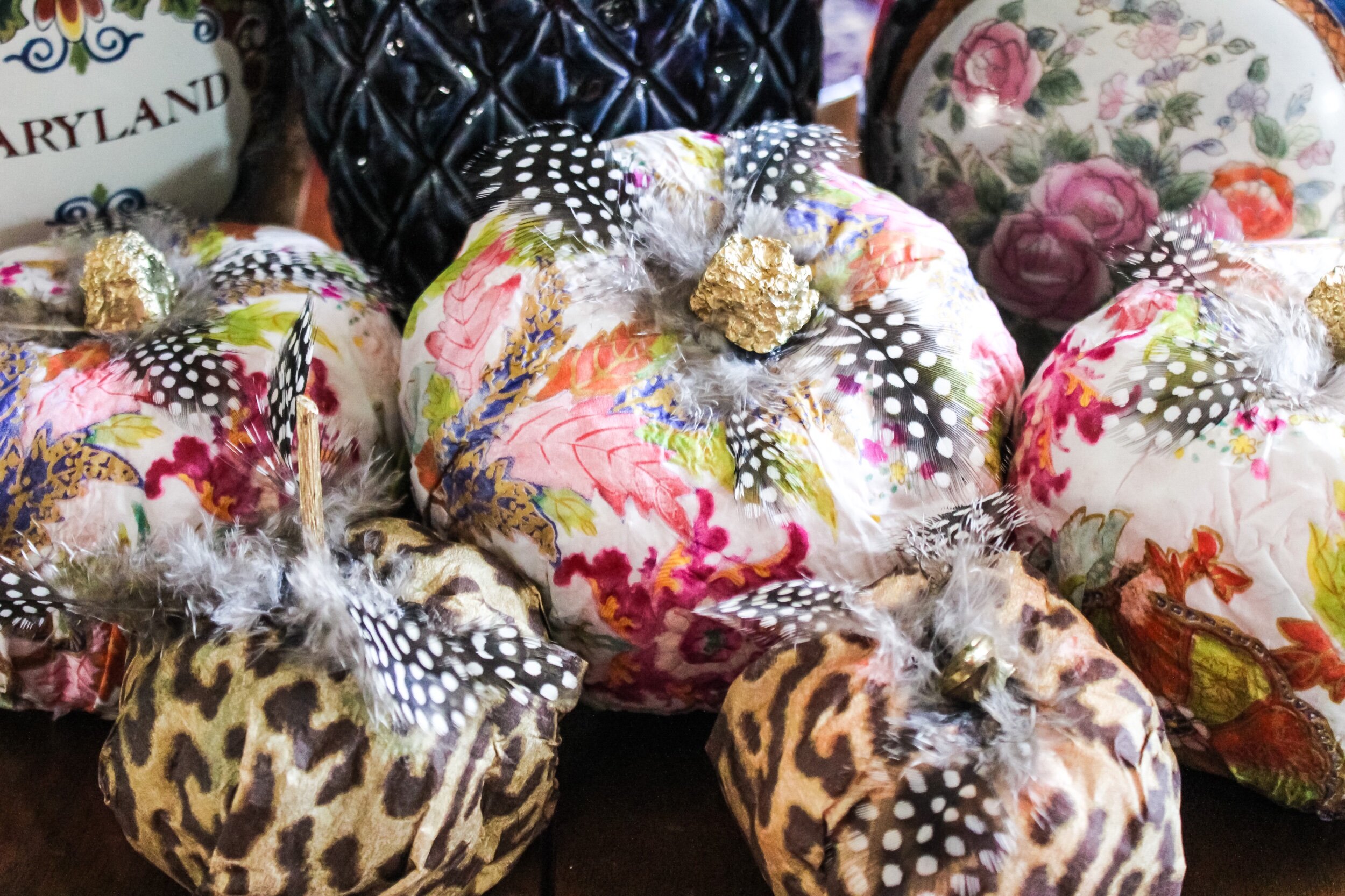 DIY on a Dime: Glam Tobacco Leaf and Leopard Pumpkins
Quick and Easy Dollar Store Decor
Hi loves! I hope you all enjoyed last week's DIY on a Dime Fall Wreath. If you've been following along, you know that i recently installed some wainscoting in my dining room this summer. So, I've been working on a few projects in an effort to get it ready for the holiday season. You all know how much I love my pink and navy, and color overall. Every Fall, I struggle with incorporating decor that I really like, that doesn't clash with my main color scheme. I've seen a few bloggers do some chinoiserie pumpkins and thought that was cute, but I need a little more glam. Soooooo…..I opted for some tobacco leaf and leopard!!! I'm so happy with how they came out! I jazzed them up with some gold stems and pheasant feathers and I think they're going to look amazing once I do my actual tablescape.
Here's a little info on the tobacco leaf print…
The tobacco leaf print is likely from the 18th Century, during the Qianlong period of the Qing dynasty. According to a 1989 article by the New York Times, the tobacco leaf china was created for export to Portuguese and Brazilian markets. I love the bright and rich colors fo the china, showing a phoenix resting on a tobacco leaf of a nicotiana flower. Although now replicas of the Chinese porcelain plates, replicas by Mottahedeh Fine Dinnerware will set you back an easy $600. As you can imagine, finding a tobacco leaf pumpkin is nearly impossible or too costly. Here's a Tobacco leaf pumpkin for almost $150!
Then, there's leopard print. I LOVE leopard print. Leopard print has become so popular, particular in home design and textiles, that it's viewed as a neutral. The same goes for fashion. You can wear leopard print shoes, or a coat with any color and you'll look great. I wanted to make some mini leopard print pumpkins to go with the tobacco leaf and mellow the table out, so it won't be too much color, if that's possible. Keep in mind, that whatever design you choose will be sitting on the table with the rest of your tablescape. Also, I couldn't find any cute leopard print pumpkins anywhere. So, that's when you just make your own!
Time: 1 Hour | Cost: Under $25.00
What You'll Need:
Foam Brush (2)

Gold acrylic paint or spray paint (and white spray paint optional)

Pumpkins from dollar store

Scissors (optional)
This project is very simple and can be completed with your babes as n arts and crafts project!
Step One: Paint Stems and Pumpkins
The pumpkins I picked up at the dollar store were a very bright orange. So, I decided to use some leftover white spray paint that I had from a previous project. I put them in the sun and allowed them to air dry for approximately 1 - 2 hours, before getting started.
Next, remove the stems from the pumpkins. These foam pumpkins from the dollar store hold the stem in place with a toothpick, so very easy to remove and place back on. The smaller plastic pumpkin had plug for stem. Then, I spray painted the pumpkin stems a metallic gold.
Step Two: Cover with Mod Podge
Next, I completely covered the entire pumpkins with Mod Podge. You should only do one pumpkin at a time. Using the smaller foam brush, generously put the paste all over the pumpkin.
Step Three: Cover with Napkin
Then, using the larger or medium sized foam brush, you'll place the center of your napkin at the center of the pumpkin. Using the brush, press down gently and have napkin cover the entire pumpkin. As an option, you can use your scissors and cut excess paper.
I then put a quarter size drop of Mod Podge at the center of the pumpkin where the stem should be. I glued four pheasant feathers at the center, and then reinserted the stem.
Step Four: Allow to Dry
Now, let your pumpkins dry for a couple of hours before you set them out on your festive holiday table. Let me know if you end up doing this easy project!